Future Adventure Playground Coming Together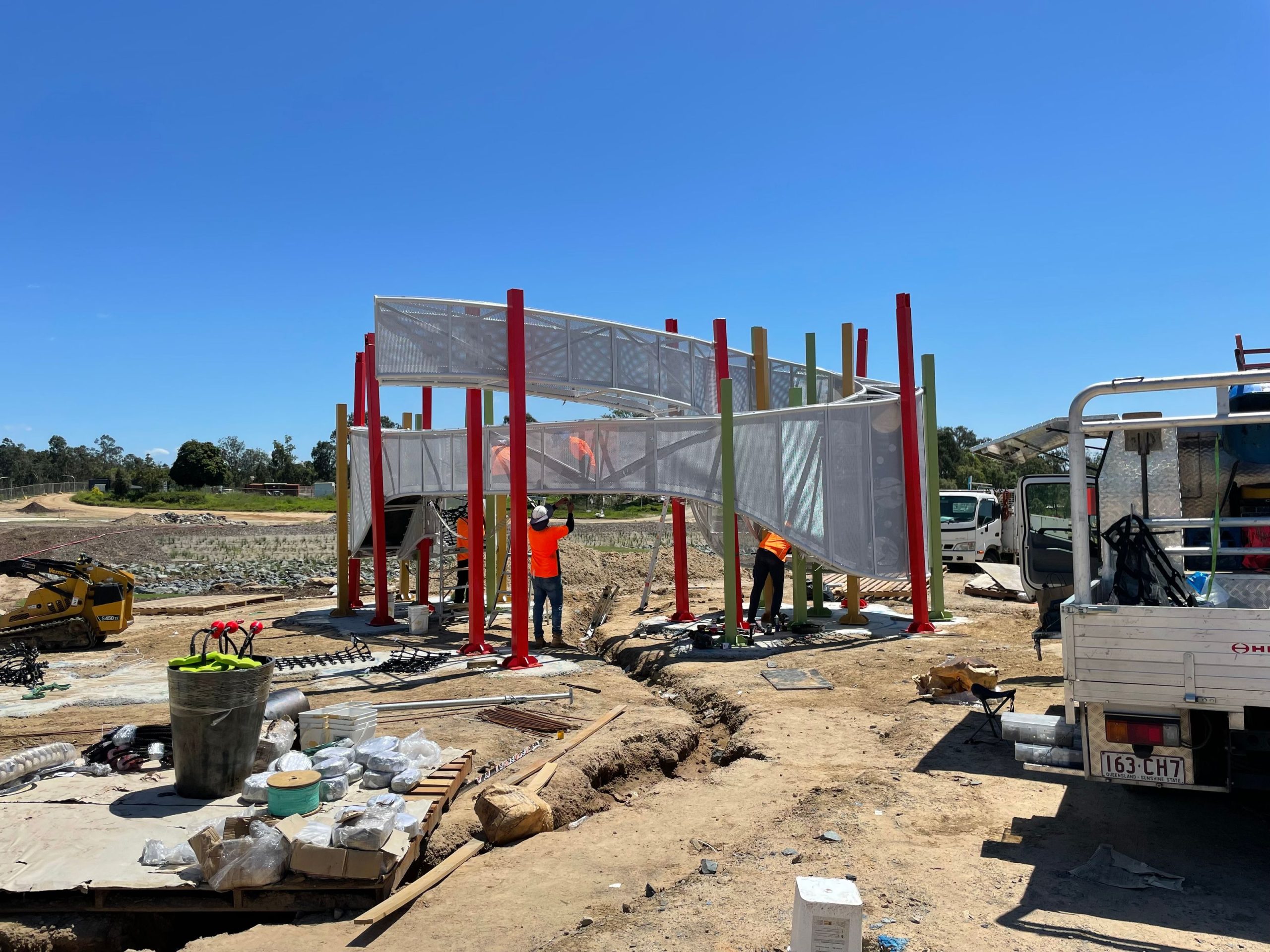 "Opportunity for play is a cornerstone element of open space design for all new and emerging Communities. During our 22-year landscape journey with Intrapac, we see this key principle repeated through their estates, constantly evolving with community and family expectations." Darren Taitoko, Director, Landsite
Excited to see the centrepiece of the future Adventure Playground coming together at Intrapac's Whiterock project in the Ripley Valley, QLD.
Dubbed "The Play Curl" the park's major attraction is a large enclosed, multi-level net space designed for children aged 5-12 years. A first for Australia, the first section of the Play Curl was positioned into place last week and will be installed in its entirety within the next fortnight.
Consisting of three towers connected via two bridges and using the vein pattern of leaves, the skin of the Play Curl creates a magical shadow and light to create transparent patterns. Combining vertical play with nature, discovery and active play experiences, children explore the playground on ground level by using the climbing elements suspended underneath the equipment such as balance ropes, ring steps and climbing cleats.
Each play tower can be accessed from below and has at least two different climbing routes to get to the bridge. Children choose between a "difficult" or an "easy" way up depending on their climbing skills.
Commanding in size at just over 16 metres long, 9 metres wide and 4.5 metres high, up to 40 children can play inside the Play Curl at one time. Once inside children can relax and lounge or find different ways to continue their path.
Complementing the Play Curl will be some traditional play elements including swings, a slide and spinning equipment. Nature play elements with rocks & steppers including a dry creek bed throughout the play space link separate areas of the playground whilst a nature play walk will be provided along the edge of the waterway corridor.
Play experiences are further enhanced by a cooling waterplay area (or splashpad), full amenities building, change room, picnic shelters and BBQ's – all located within the Adventure Playground and accessible for all abilities.
Situated adjacent to the future Display Village and Sportsgrounds, Whiterock's Adventure Playground was specially designed to reflect the character of the local environment with both the playground and waterplay area featuring an exciting array of play opportunities to spark the imagination and instill a sense of exploration in young minds.
With landscape construction underway, the Adventure Playground is anticipated to be open around March, 2023 in time for the first Whiterock residents.